Description

We finally wrote our recipes down…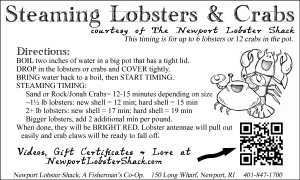 If you're looking for the basics, here's a recipe card on how we steam our lobsters and crabs...
Beyond that, our cookbook – 
The Fisherman's Table –
is the perfect gift for your seafood lover. All recipes are trusted, tested and tasty, utilizing only main ingredients that can be harvested from the island or its waters.
Example Recipes to make your mouth water…
White Clam Pizza
Lobsterman's Pie
Sand Crab and Roasted Corn Chowder
Red Curried Mussels
Lobster Stuffed Lobster
Blackfish Cioppino
Sweet Potato Fish Cakes
Mushroom & Bacon Stuffies
Tequila Lime Grilled Calamari
Conch Salad
More info and video recipes can be found at www.FishermansTable.com.