Live Market & Kitchen Hours:
(updated 01/02/20)
LIVE MARKET:  
Monday-Thursday: CLOSED
Friday, Saturday & Sunday: 10AM-5PM
Email any questions as we're not always near the phone crab@newportlobstershack.com
KITCHEN:
CLOSED FOR THE SEASON. WILL RE-OPEN SPRING 2020
Fresh lobster meat is often available by the pound if you pre-order to crab@newportlobstershack.com. We can also steam lobsters for you 'to go.'
These are a few of our menu items…
Please keep in mind that market prices change and we often have specials. If you want to know what else we're cooking up, or current prices, call us at 401-847-1700.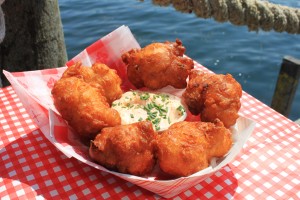 Lobster Cakes – $8 for 6, $15 for 12
 
Lobsterman's Bisque – $7